To achieve your major goal, the first step is to write down your major definite purpose also known as definite chief aim. This will require no major skill or knowledge form your part and if you were to do what is mentioned in this post, you will see most things you set out to do materialize. This is the central idea in Napoleon Hill's book Think and Grow Rich. It is easy for your major definite purpose to become nothing more than wishful thinking. To avoid this, the idea of Major Definite Purpose has been adapted in this post to ensure that you have a process that will help you see concrete results.
What is Major Definite Purpose or Definite Chief Aim
When men first come into contact with crime, they abhor it. If they remain in contact with crime for a time, they become accustomed to it, and endure it. If they remain in contact with it long enough, they finally embrace it, and become influenced by it. Any stimulus of thought which is repeatedly sent to the subconscious mind is finally accepted and acted upon by it. Writing down your major definite purpose and reading it aloud twice daily, will influence your subconscious mind in a similar way and will create a burning desire that you require to achieve your goals. A lot of people set goals but few see their goals materialize. This is because they live their lives passively taking anything that comes their way. Creating a definite chief aim is a way to trick your subconscious into having the right mental process to achieve your goals. Your major definite purpose is a very specific statement which has the power to influence your subconscious mind. Your burning desire will in turn will force you to take daily action that moves you towards attaining your goal.
How to Make Your Major Definite Purpose
To create your major definite purpose, follow the steps below:
Step 1 – Determine Your Specific Desire
Determine exactly what you desire being as specific as possible. You can never have a burning desire for something vague. Wanting to be rich is vague, but wanting to make a million dollars is being specific. Wanting to lose weight is vague, wanting a 30 inch waist line is being specific.
Step 2 – Establish The End Date
Establish a date by which you want to acquire or achieve this thing that you desire. It is important to be realistic. The time period should be long enough for your goal or desire to be achievable but short enough for you to find it worth pursuing.
Step 3 – Determine The Price
Determine what you are willing to give in return for this thing that you desire. You have to pay a price for the object of your desire and you have to pay it in full before you get it. You never get something for nothing and the definite chief aim prepares you to pay the price as and when it is necessary. If you want to be a millionaire, you need to create the necessary value in return for the money. If you want to get in shape you have to put in the necessary work and follow a proper diet plan. Regardless of what your desire, there is a price you have to pay for it.
Step 4 – Make An Imperfect Plan
Make a definite plan that will help you realize this desire and put this plan into action immediately, whether you are ready or not. Your plan need not be concrete. You just need to start somewhere, so come up with whatever plan you can think of. Note that you just need a place to start and direction to work towards. You don't need a well laid out elaborate plan. Your plan will evolve in your subconscious and you will think of various different plans at a later date as you start having a burning desire.
Step 5 – Write A Concise Statement
Write the results of the above four steps in a concise statement. It must include what you desire, what you are going to give in return for your object of desire, along with the time limit and the plan with which you intend to acquire this object of your desire. Remember to write down the date when you wrote it down along with your name or signature. This concise statement is your major definite purpose or definite chief aim.
Step 6 – Reading Your Major Definite Purpose
Read this concise statement twice daily, once after waking up and once before going to sleep. When you read this statement, see and believe that the object of your desire is waiting to be transferred to you as and when you deliver the service/work you have committed to render in return for it in step 3. Reading it aloud is intended to condition your subconscious mind to develop a burning desire by making you constantly think about it.
Step 7 – Changing Your Identity
Repeat the daily reading of your major definite purpose until you start taking consistent daily action that moves you towards your end goal. Every day, if you are doing something that moves you towards your goal, your definite chief aim has become part of your identity. You can continue to read your major definite purpose daily if you wish to do that, but I generally revisit my definite chief aim less frequently when I reach this stage. A lot of us get stuck in the planning phase without taking action. It is vital that you put your plan into action and you make progress towards your goal everyday through execution of your plan.
Bruce Lee's Definite Chief Aim
Below you will find the handwritten major definite purpose of Bruce Lee . Bruce Lee wrote it in 1969. You can use this as a template to create your own.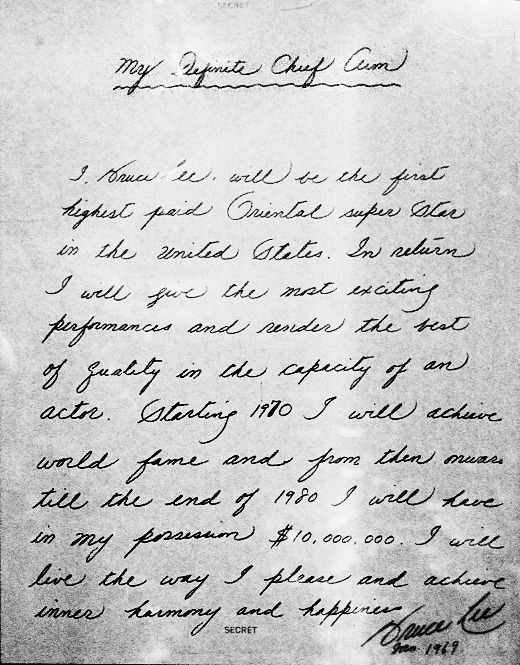 Transcript
My Definite Chief Aim
I Bruce Lee will be the first highest paid Oriental super star in the United States. In return I will give the most exciting performance and render the best of quality in the capacity of an actor. Starting 1970 I will achieve world fame and from then onward till the end of 1980 I will have in my possession $10,000,000. I will live the way I please and achieve inner harmony and happiness.
Bruce Lee
Date: 1969
More Than One Major Definite Purpose
Having more than one major definite purpose will reduce its power to influence your sub-conscious mind. Plans for acquiring the object of your desire might change but the object of your desire should not. To identify the object of your desire ask yourself what fulfills you the most and identify the object of your desire accordingly. You can have multiple other goals but only one major definite purpose.
System to Apply Your Major Definite Purpose to Your Life
We looked at what a major definite purpose is, how it works and how to make one. With this information you will be able to create your own definite chief aim and apply it to achieve your major goal. However you will need to effectively absorb this into your life to see all the benefits. Without that, your major definite purpose will just become something you wrote and forgot about. You need a system to incorporate this into your life, which we will cover in this section.
Where to Go From Here
It is highly recommended that you read the book Think and Grow Rich by Napoleon Hill, which is where the concept of the major definite purpose first came from. Creating a definite chief aim alone is not enough. I would highly recommend that you proceed with reading How to Write a Diary – A Life Changing Keystone Habit. Writing a diary will help you form and stick to your habits and thereby achieve your goals. This is critical in making your definite chief aim a reality. Let us know what your major definite purpose is in the comments section below, so you can inspire others to make their own definite chief aim and take action.
[bottom-of-post]